Thank you for getting in touch!
We will forward your inquiry to the relevant team, who will contact you shortly. In the meantime, do browse through our Insights section, where you can also check out our latest blog posts. Have a great day ahead!"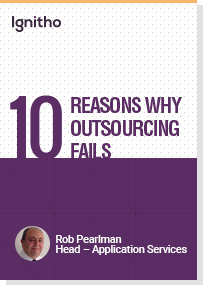 10 Reasons Why Outsourcing Fails
Former IT Director
Avis Budget Group, AXA
The decision to outsource IT services is a crucial pivot point for business leaders, leading to overwhelming success or monumental failure. Based on his experiences, Rob discusses the top 10 pitfalls to avoid.
We speak from experience, execution and impact. Success deserves a spotlight – yours could be the next.
Mobile-first Advanced Business Intelligence & Revenue Analytics for a Leading Healthcare Provider
Optimizing business performance analytics delivery for a leading customer analytics company
Tell us about your requirement and we'll be in touch